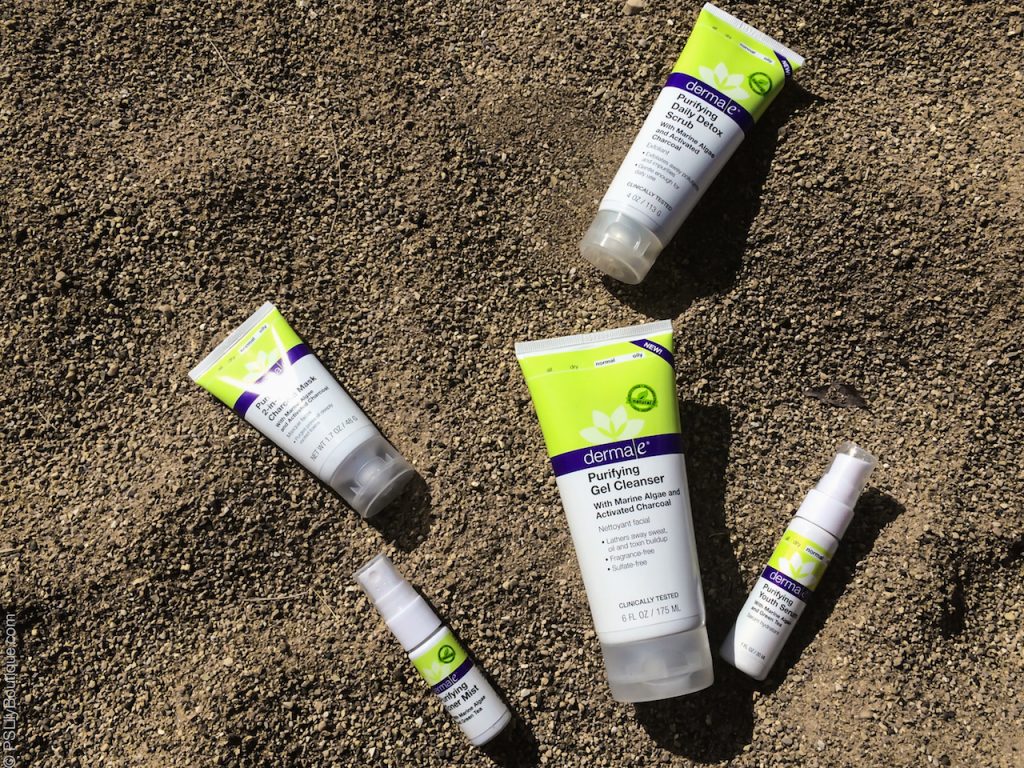 Photos by iBakefilm
    Hey, guys! Hope you had a wonderful weekend! I've partnered up with derma e to give you simple solution for your post-weekend beauty routine, while detoxifying your skin from any harmful pollutants from your everyday life. What types of pollutants is it… you ask? Well, believe it or not we run into environmental pollutants everyday without even knowing. Such as: exhaust fumes, cigarette smoke, and heavy metals. Lately, I've been using this skin care system and I noticed my skin looked healthier, feels fresher and glowing at times.
derma e Purifying Gel Cleanser:  I love this face wash so much. I used it 2 times a day: morning & night. Even though I have sensitive skin; I was sure that this cleanser was able to get my makeup off. I wish it came in a body wash since, it is filled with natural ingredients such as: charcoal, anti-oxidants, green tea, and aloe vera. At first, I was like charcoal for washing your face, what?! So, at first when you lightly squeeze the tube it comes out black then foams a little. Then the idea finally grew on me. I love that it's purpose is to remove impurities and everyday environmental pollutants. My skin felt smooth and soft afterwards. It's so good to know that this face cleanser is paraben-free, sulfate-free, gluten-free, certified cruelty-free, and fragrance-free. And also suitable for men and woman to use daily.
derma e Purifying Daily Detox Scrub: I can't say enough of how much I love this daily scrub. Yes, you heard me right "daily scrub." It's so gentle you can use on a daily basis. A little goes a long way for this scrub. Then my favorite part is the after math of this scrub, when you just let it sit on your skin a few minutes, omg… it has this tingly minty fresh feeling and cooling affect. The ingredients included are: apricot seed powder(exfoliates away dead skin cells), Kaolin & Bentonite Clays( absorbs oils, impurities, and relieving skin congestion), Kimarine Wakame seawead(protecting you from any environmental pollutants: exhaust fumes, cigarette smoke, and heavy metals), Bladderwack seaweed(mineral rich seaweed that helps hydrates & nourish), Green Tea(packed with antioxidants to help defend from free radicals). I felt that my skin was not dry after using this scrub. And a huge plus because it is: Gluten-Free, Sulfate-Free, Paraben-Free, Vegan, Oil-Free.
derma e Purifying 2-in-1 Charcoal Mask: I'm normally into using facial mask because they normally dry my skin or make my face break out. But this was the exception. Not only was it fun to break out my art skills and do some face painting. But the positive effects are endless. Since, I do wear makeup a lot. It is always great to find a way to take of my skin with natural treatments. I use this 1-2 times a week and noticed my skin looked healthier every time. With similar ingredients like the Derma E Purifying Daily Scrub I felt safe about using it.
derma e Purifying Toner Mist– After washing my face the Derma e Purifying Gel Cleanser, it was so refreshing to spray this toner mist on my face. It was much needed after a hot and humid summer's day. I love that fact this toner is: Cruelty, gluten, GMOs, parabens, phthalates, sodium lauryl sulfate, petrolatum, mineral oil, and artificial colors.
derma e Purifying Youth Serum: After cleansing and toning, dispense onto fingertips and apply to face and neck. may be layered underneath moisturizer or makeup.
With this serum and so many health benefits like these:
With marine Algae and Green Tea

Delivers Concentrated Nutrients

Shields Skin from Free Radical Damage

Cruelty and Paraben Free

100% Vegan

Gluten and GMO Free
 It's safe to say I will be using these beauty products soon. So, what is your favorite post-weekend beauty routine?
Thank you to Derma E for sponsoring this post.
Happy Tuesday & thank you for stopping by! 😊
❤️ xoxo,
Lily
…
Be sure to follow along on:
Instagram |  Twitter | Facebook | Pinterest |
  YouTube | Bloglovin' |  My Shop | Newsletter
…
 DERMA E PURIFYING TONER MIST, DERMA E PURIFYING YOUTH SERUM, DERMA E PURIFYING 2-IN-1 CHARCOAL MASK, DERMA E PURIFYING GEL CLEANSER, DERMA E PURIFYING DAILY DETOX SCRUB