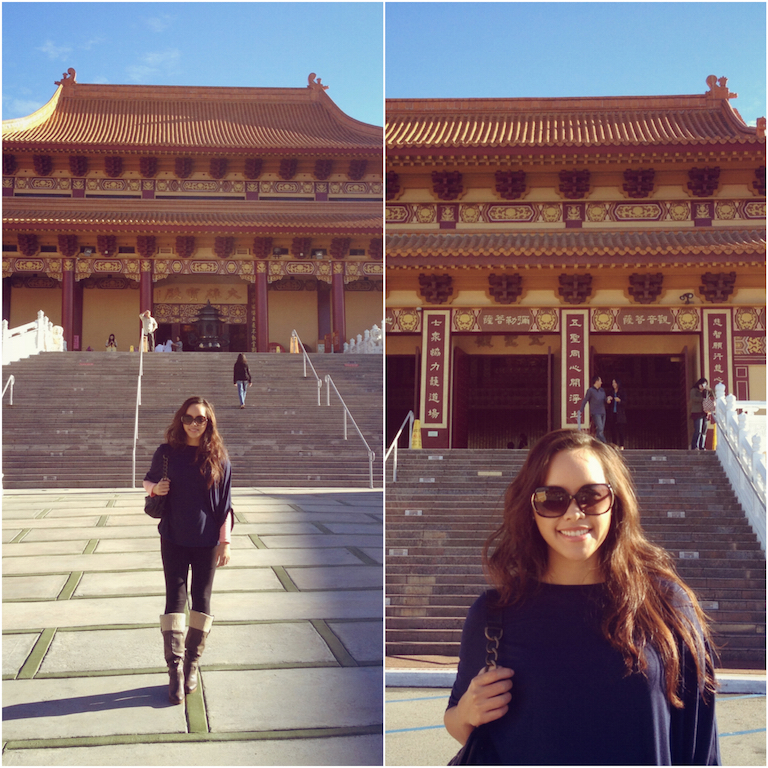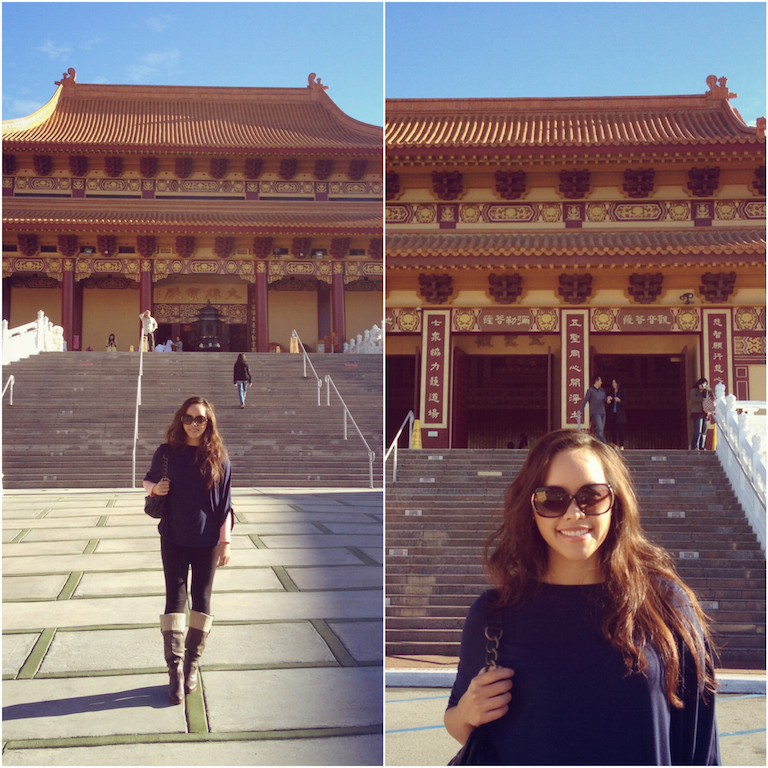 Press play
My Outfit Details:  short sleeve tee shirt: c/o Nowistyle (similar here).  long sleeve tee shirt: c/o Nowistyle (similar here) . Bag: Nordstrom (similar here). Sunglasses: Marc by Marc Jacobs. Leggings: Jockey (similar here) . Boots: Unisa (similar style here)
Photos and video by iBakefilm
Hello everyone! How is your week going so far? I love it when you just have no plans then all of sudden; you decide to visit a grand temple surrounded by mountains. Just of of the blue; we decided to go and see Hsi Lai Temple a mountain monastery in the northern Puente Hills, Hacienda Heights of Los Angeles County, California. The view from here is breathtaking. I feel so peaceful here and so happy that this one exists. It took my breath away.
So, I wore this outfit and wedge boots; since I new I would be on my feet walking around a lot. So I wanted to be comfortable, casual and chic at the same time. I'm glad I did, since there are so many steps. I was able to get my cardio in; so that was a plus. I love layers; but too many layers can be too bulky so my favorite kind of layering is the long tee shirt under a short sleeve t-shirt. Sometimes there are just not enough words to describe a place; except just see if for yourself or watch it on video. Hope you liked the video!
Also, there are huge sales happening here. Happy shopping 😉
"He said, "There are only two days in the year that nothing can be done. One is called yesterday and the other is called tomorrow, so today is the right day to love, believe, do, and mostly live." -Dalai Lama
Featured items:
Have a good day!
xo,
Lily
Be sure to follow along on:
Instagram |  Twitter | Facebook | Pinterest |  YouTube | Bloglovin' |  My Shop